Perryn Butler Welsh Sculptor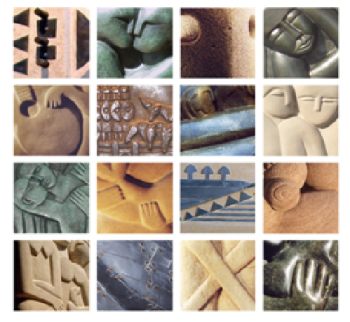 Perryn Butler was a successful Leading Welsh Sculptor, based in Pembrokeshire, West Wales, United Kingdom, but has due to ill health, ceased working in stone. Due to a major house fire in Perryn's home at the end of February, a large amount of Perryn's work was destroyed. She still has work exhibited in several Galleries in Britain, including, Kooywood Gallery Cardiff, Museum of Modern Art, MOMA, Fountain Fine Art Gallery, Waterfront Gallery Milford Haven, Harbour Lights in Porthgain, and Y Oriel in Newport.. Perryn has been exhibiting throughout Britain for over 25 years, and has works in several renowned galleries, and has had exhibitions in London England, USA, Germany, Wales, Brittany and The Channel Islands. Her work is internationally collected, in such organisations, as the Irish Environmental Agency, The National Botanic Gardens, Wales, The National Library of Wales and The Centre for European Culture, Otzhausen Germany.
In Perryn Butler's work the influence of very early sculpture is undeniable. Perryn studied ancient forms of representation and became fascinated by the abstract genius of African, South American and Inuit sculpture. The other great influence on her work is music. As an accomplished musician herself, Perryn uses music as both subject matter and as metaphor. Music infuses her sculptures with rhythm and flow and with their intensely emotional character. For Perryn 'the joy of carving is that it is difficult. It is always an experimental and potentially dangerous journey, which is the challenge and excitement' she enjoys.

Perryn's most recent works in bronze - The majority of Perryn's small bronzes started life as a piece of Bluestone.
The Preseli Mountains are wild and windswept with spectacular views. They were the stamping ground of our ancient ancestors who built burial mounds, stone circles, cromlechs and dolmens. This is the place where the magical blue stones came from and were taken to Stonehenge to form the inner circle.
It is extremely hard to carve, speckled granite that exudes history. It is millions of years old and immensely satisfying to carve into something that will continue to last for millennia. It speaks to Perryn like no other stone and evolves into something unexpected. If she had used any other material it would not have emerged in this way, so influenced is she by its essence. Apparently the dust nurtures plants and the stone has a measurable magnetism. It comes in a variety of colours from blue to bluey green to browns with orange flecks. No two pieces are the same some are finer grained and some have tiny holes within.
See Perryns catalogue of bronze editions here