Recent Solo Exhibitions
Perryn has a forthcoming Exhibition of her Paintings at the
Oriel Bevan Jones Gallery, King Street, Carmarthen
September 2017


Kooywood Cardiff
This was a wonderful exhibition, with the whole gallery dedicated to the work of Perryn Butler.





Nant y Coy, Wolf's Castle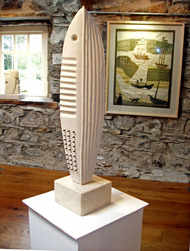 A short boat from Tenby, is the Island of Caldy, which is home to the Monastery and Monks. Now, there are powered boats which go to a fro from Tenby to Caldy, for both the inhabitants, and tourists. In the past however, when livestock were taken to Caldy, the sheep were rowed over, and the cattle had to swim across to the Island. Thus, the relevance of this Sculpture, which beautifully illustrates the journey of the livestock to Caldy.
Exhibitions
Selected Exhibitions
2015 The Lion St Gallery, Hay summer
2015 Erwood Station Gallery, Builth Wells, solo show, summer
2015 The Late November Gallery, Haverfordwest
2015 Kooywood gallery
2015 Oriel Bevin Jones Gallery Solo show July
2014 Oriel Bevin Jones Gallery Carmarthen, group show
2014 Arts Parks International, Guernsey
2014 The national Botanic Gardens
2014 The Kooywood Gallery
2014 The Late November Gallery,Haverfordwest group show
2013 Solo show Kooywood, Gallery, Cardiff-October
2013 Fulham Palace Gardens-May-Art Fair
2013 International Ceramics Festival, Aberystwyth, June
2013 National Botanic Gardens, Wales
2012 Kooywood gallery, Cardiff-group show
2012 Parallax Art fair Chelsea London
2010 Form Contemporary Gallery, Bleanavon, Brecon-group show
2010 Old Courthouse Gallery, Amble side, Cumbria-group show
2009 Two man show with David Tress at The Albany, Cardiff
2009 Picton Castle The Artist And The Gardener with Sculpture Cymru
2008/09 Art Matters Gallery Tenby-in gallery
2007/08 Nantycoy May Solo Exhibition "Dancing The Stone"
2008 Rhosygilwen, Cardigan, May, group show
2007 MOMA Machynlleth, group show "Welsh Artists."
2007/08 Celia Purcell Contemporary, London-in gallery
2007/2014 Annual Group Show, Arts Parks, Guernsey-internet
2007 Sculpture Cymru Travelling Exhibition group show
Centre For European Culture, Otzenhausen, Germany, May
London, July, Barry Town Hall, Glamorgan Aug
2006 "Equus", Margham Park, Swansea-with Sculpture Cymru
2006 Opening of National Assembly Building TV Program by BBC Wales
2006 San Francisco, U.S.A. Welsh arts and crafts group Show
2005 "Out Of The Silence", One Man Show, Tenby Museum Gallery,
Selected Pre- 2005 Exhibitions
Martin Tinney Gallery Cardiff, "Welsh Artists of The 20th Century"
Two Man Show "Rites Of Passage" Wexford Ireland
Solo Show "See Touch And Play" Pembroke dock Library
Gwndwn, Cardigan, Art in the Landscape Performance Art
Solo Show, Milford Docks "Tall Ships"
Highgate Gallery, London Mixed exhibition
Carpet Gallery, Farnham, Solo Show
Millennium Prize winners show Carmarthen Library
National Eisteddfod
Perryn Butler 'Into the Silence' Exhibition
TENBY MUSEUM,
JUNE 28th to JULY 26th 2005

In June and July of 2005, Perryn had a very successful solo exhibition of many of her sculptures and paintings, in the Tenby Museum Gallery, Pembrokeshire, West Wales. The exhibition was a showcase of many of Perryn's new works, including one of the six bronze panels, commissioned by Pembroke Dock. There was a selection of medium, with sculptures in stone, bronze, wood and Bronze Resin. The exhibition was open to the general public, and was well attended, with additionally many private collectors and corporate bodies showing much interest. Perryn has another exhibition later in the year, in Milford Haven, where she currently has work on show.

Perryn is seen here, in front of the first of six bronze panels which she was commissioned to create for the Naval Town of Pembroke Dock.
This panel, carved especially for the Tenby Show, and cast in Bronze Resin, is called Livestock to Caldy, and depicts the cattle swimming over to the Monks Island, just off Tenby, whilst the monk brings the sheep over in a rowing boat.
WEXFORD, IRELAND 'RITES OF PASSAGE' EXHIBITION 2002